--------------
Presented by: THREE.8.WERKS
Date: June 14th, 2009
Time: 10am-5pm
What: Giant Show and Shine
Where: Yonkers Raceway and Empire City
...........810 Yonkers Ave.
...........Yonkers, NY 10704
10$ per driver
5$ per passenger
Free Food

I wanted to let everyone know that, once again, we will be collecting ballots for People's Choice Awards. This is 100% chosen by those attending. Every car will get a number and a ballot to complete. Vote for the number of the car you want to win. There will be a 1st, 2nd, 3rd place for each. We are trimming the classes to:
Best of Show VW (1, 2, 3)
Best of Show Audi (1, 2, 3)
Best of Show Other (1, 2, 3)
When you have completed your ballot, give it to any of the THREE.8.WERKS members thoughout the show. Final ballot collection will be at 3:30PM.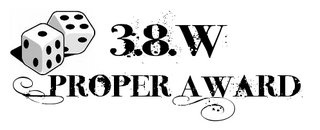 This is chosen 100% by THREE.8.WERKS. We had this last year and felt it appropriate to single out one car. One sick VW or Audi. Let it be a show queen, a race machine, a completely restored-no-detail-spared classic, or anything in between. We want to give major "props" to just one that we feel deserves the extra attention for going the extra mile.
3.8.W Proper Award (1st place only).